Christmas Eve Mass Schedule*
2p.m.            Outdoor (Larsen Field)
4p.m.            Church + Livestream
6p.m.            Church + Livestream
7:30p.m.      Livestream Only (Full Music)
Midnight     Church
Christmas Day Mass Schedule*
8a.m.     Church + Livestream
10a.m.   Church + Livestream
12p.m.   Outdoor (Larsen Field)
* pending COVID-19 restriction updates
Friday, Dec. 11 @ 7p.m. Advent with Joseph Holy Hour
Friday, Dec. 18 @ 7p.m. Advent with Mary Holy Hour
Sunday, Dec. 20 @ 12:30p.m. Outdoor Mass
Solemnity of Mary, Holy Mother of God
Holy Day, January 1, 2021
Thursday, Dec. 31
Vigil Mass at 5:15p.m. (Church)
Friday, Jan. 1
Holy Day Mass at 9a.m. (Church + Livestream)
Into the Slop Episode List
Episode 1 – Nov. 29: I Prayed For This Child
Episode 2 – Nov. 30: A Whale of an Ulcer
Episode 3 – Dec. 1: Justice Girl
Episode 4 – Dec. 2: A Task-Oriented Mess
Episode 5 – Dec. 3: Washing Cars
Episode 6 – Dec. 4: Soar Above the Mess
Episode 7 – Dec. 5: All of Me, Including My Mess
Episode 8 – Dec. 6: Eternal Invitation
Episode 9 – Dec. 7: Finding God's Good in Struggle & Suffering
Episode 10 – Dec. 8: Installing a Theologian's Toilet
Episode 11 – Dec. 9: Overcoming Sinful Anger
Episode 12 – Dec. 10: Bear With Each Other
Episode 13 – Dec. 11: Dirty Laundry
Episode 14 – Dec. 12: Step 1: We Admitted We Were Powerless
Episode 15 – Dec. 13: A Mother's Prayer
Episode 16 – Dec. 14: It's Not Bells and Whistles
Episode 17 – Dec. 15: Never Too Late to Make Things Right
Episode 18 – Dec. 16: Underlying Discomfort
Episode 19 – Dec. 17: Let Love Set You Free
Episode 20 – Dec. 18: Power Made Perfect in Weakness
Episode 21 – Dec. 19: Coming to My Senses
Episode 22 – Dec. 20: NVRGVUP
Episode 23 – Dec. 21: Heating Up Luke-Warm Faith
Episode 24 –
Episode 25 –
Episode 26 –
Episode 27 –
If you subscribe to Apple Podcasts, Spotify or Google Podcasts, simply type "Into the Slop" in your search window.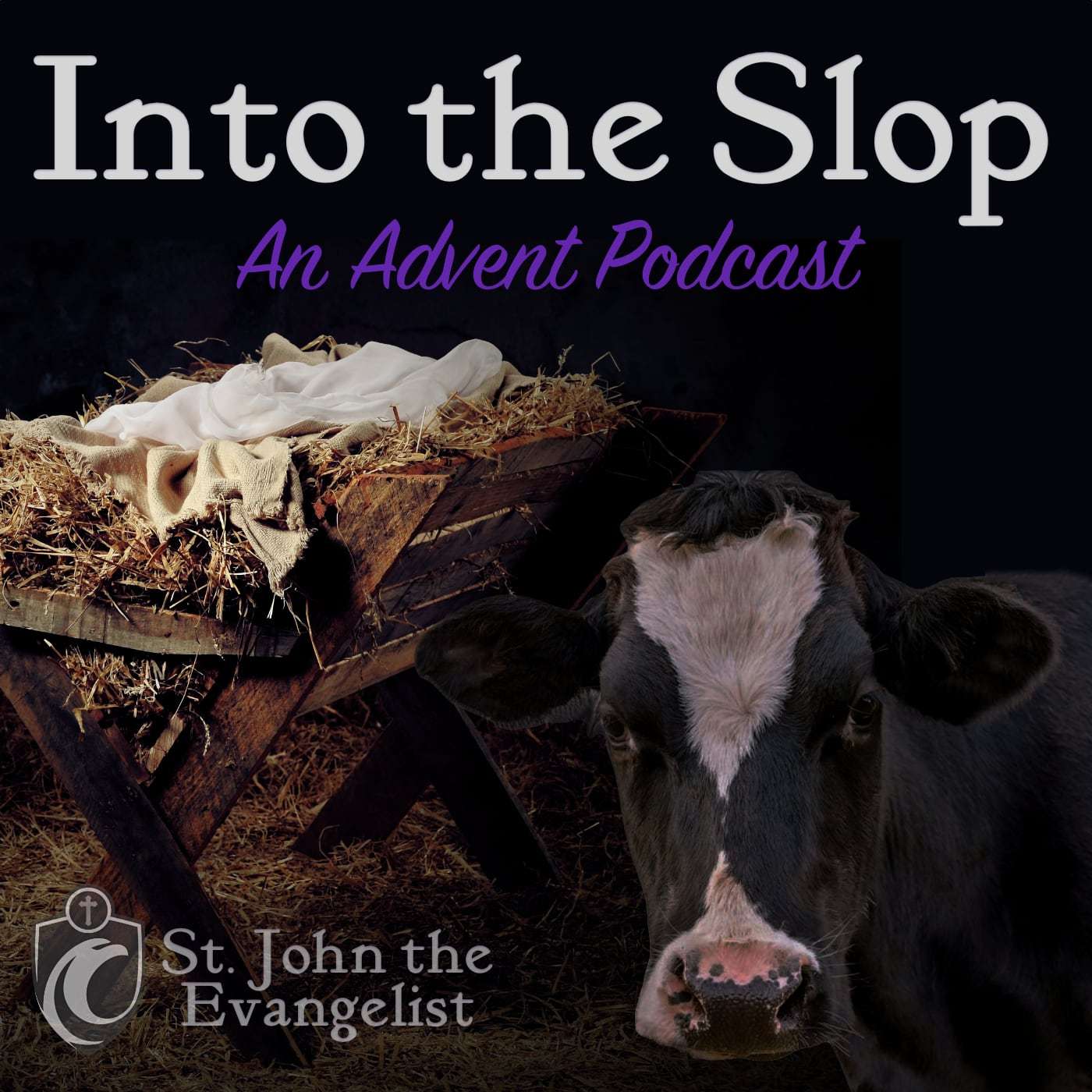 Advent Podcast - Into the Slop
The season of Advent, our time of preparation for Christmas, begins this Sunday. I read an article recently that described how 2020 has felt like Advent all year, with so many things happening that have made us cry out for the Lord all the more, desiring his peace, comfort, and joy.
If any time in life should stir our deep longing for the coming of the Messiah, 2020 is it. So many things have reminded us of how broken the world is, of how much healing is needed, of how little control we have over life.
The good news is that Jesus came to get messy. He came to enter into all of our brokenness and sin in order to rescue and save us. It's such good news! But most of us have trouble letting Jesus into the mess. Even though he was born in the stable, we get uncomfortable with the thought of him entering the messy stable of our hearts and lives. But if we don't let him, how can we be saved?
So to help you welcome Jesus into the mess of your life this Christmas, we decided to produce a new Advent Podcast called "Into the Slop."
Each episode features a real-life testimony about letting Jesus into the mess of life, the good things he does when we let him in, and what it looks like to let him in.
Please subscribe using any of the links here and get ready for a reverent but realistic Advent podcast to help you welcome Jesus into the messiness of daily life. There's no better preparation for Christmas!
God Bless,
Fr. Erik
Listen: